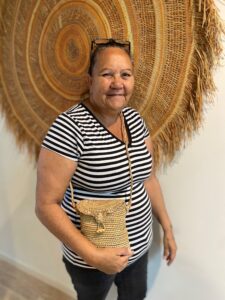 Janette Duncan  
Janelle Duncan is Kamillaroi Woman living on Bundjalung. She is a dexterous weaver that experiments with innovative contemporary and traditional shapes, sizes and styles. She has been a part of the Casino Wake Up Time creative collective for more than a decade, learning Bundjalung and contemporary weaving. She joined the group to connect and support other women, unearthing a strong connection to weaving. Wake Up Time is renowned for supporting cultural renewal of traditional weaving and their artistic native plant dyeing of silk. The women have transformed their passion for weaving into a gorgeous collection of garments, jewelry, bags and hats. Janette has participated in several exhibitions and conducted numerous workshops locally, regionally and nationally.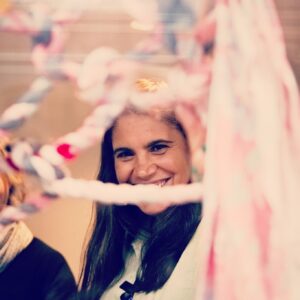 Kylie Caldwell
Kylie is an experimental Bundjalung inter-disciplinary artist based in Northern Rivers, NSW. Her practice explores themes that reverberate around her. She has an interest in reviving and pursuing traditional cultural practices that her ancestors have used for over thousands of years. Rediscovering these ancient Bundjalung crafts and threading them into the modern world. Kylie seeks to soak up the knowledge and wisdom from Bundjalung Jogun (country) by utilizing various mediums to deepen and expand my own cultural creative expression and knowledge. Kylie is committed to growing traditional weaving, exploring different mediums through both the ancient form and contemporary artistry to represent an enduring Bundjalung identity.
us leo.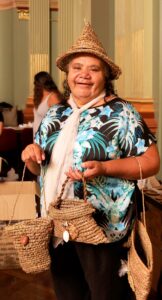 Margaret Torrens 
Bundjalung Weaver Margaret Torrens is the Elder of Casino Wake Up Time and a long standing member of the creative collective. Margaret produces rustic and quirky styles of baskets, enjoying the bonding aspect of weaving as a collective. The Wake Up Time Group is based in Casino and has been running for over a decade. They came together out of a need to support each other during difficult times through creative arts. Wake Up Time is renowned for supporting cultural renewal of traditional weaving and their artistic native plant dyeing of silk.  In Northern NSW the cultural practice of weaving is growing.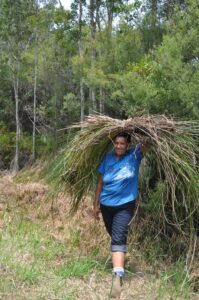 Theresa Bolt
Bundjalung textile and fibre artist Theresa Bolt. Theresa has been a part of the arts collective, Casino Wake Up, for more than decade, learning and teaching Bundjalung weaving locally, regionally and nationally. She plays an integral role in assisting the elders with collection of raw materials and loves to explore contemporary forms using traditional techniques. Theresa's weaving repertoire has grown since beginning weaving a decade ago, she likes to experiment with all forms of weaving and basketry.