Yaam Gumbaynggirr Jagun
Here is Gumbaynggirr countryaa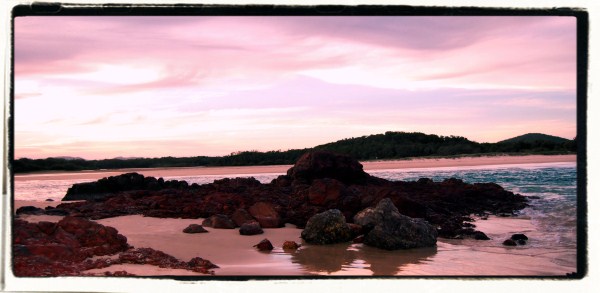 Gumbaynggirr people and their dreaming have lived on the Mid North Coast since time immemorial.
Gumbaynggirr Country spans from the Clarence River to Nambucca and west to Ebor. 
The Mirlagalgi Clan and its descendants, represent the traditional custodians of the Northern Lowlands of Gumbaynggirr Jagun (country) where their deep connection to country is reflected in oral histories passed down during 4000 years of community, trade and ceremony at Red Rock.
Despite the ravages that invasion and colonization brought, the Gumbaynggirr community in Corindi Beach survived throughout the 20th century by living outside the reserve system in 'no man's land', on the other side of the fence. Where they could still talk lingo, continue traditional practices and retain their relationships with the cultural landscape.
Yarrawarra Aboriginal Corporation was established at Corindi Beach in the 1980's with the foundation membership of local Gumbaynggirr people retaining cultural continuity expressed through stories and events associated with specific sites in the local landscape. Its aim was to provide economic, social and cultural opportunities for the local Aboriginal community.
69 Red Rock Road was purchased from the CH&DLALC to establish the Cultural Centre and leased another portion of land to grow vegetables and establish a workshop.
During the 1990s, Yarrawarra Aboriginal Corporation purchased Lot 4, adjacent to 69 Red Rock Rd, and constructed a large number of buildings in the area.  Here Nuralamee Accommodation and Conferencing Centre was opened in 1999.
Nuralamee is the Gumbaynggirr word meaning "home camp".
Originally established in 1987 by the Gumbaynggirr Elders, Yarrawarra, meaning "happy meeting place", is an Aboriginal cultural, conference and accommodation centre and is proudly owned and operated on a not-for-profit basis by Aboriginal people, predominantly from the Gumbaynggirr language group.
Yarrawarra Aboriginal Cultural Centre became a service of Gurehlgam Corporation Ltd since 2016.
The centre is approximately 30km's north of Coffs Harbour on the fringe between the Mid North Coast and the Northern Rivers regions, this is the northern coastal lowlands of Gumbaynggirr nation.
The northern NSW coast is defined by a series of large rivers. These large rivers make up part of the 'dreaming' and are the dividing line between language groups.
Yarrawarra has also established a range of partnerships with government agencies and is deeply involved in cultural land management. We have constructed walkways, conducted weed control and re-vegetation, as well as cultural research and education projects.
In the 21st century, Yarrawarra Cultural Centre is striving to become a first rate cultural ecotourism and education facility.
Wadjar Art Gallery, Bush Tucker Cafe, and a range of cultural activities and information for day-visitors as well as Nuralamee Accommodation and Conference Centre.
Yarrawarra focuses on Aboriginal and Islander descendants maintaining their Cultural Heritage and integrity, and is proud to be open to the public so they can learn about and enjoy authentic Gumbaynggirr culture, art & history.