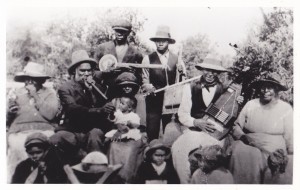 The Jalumbo Keeping Place houses a cultural collection representing over 4,000 years of Aboriginal life on the mid-north coast of New South Wales. The collection was created through the Jalumbo Cultural Heritage Research Unit which was established by the Yarrawarra Aboriginal Corporation and the Garby Elders in 2001 to conduct cultural research and training, providing advice to local land managers on both Public and private land, and Marine Parks. Jalumbo also conducted cultural heritage surveys, oral history recordings, archive research and produced public interpretations such as books, reports and signage.
Jalumbo Culture & Heritage collection
Yarrawarra's Cultural Collections include art works, photographs, audio and video tapes, books and reports. Yarrawarra Aboriginal Cultural Centre also has an outstanding collection of archaeological items, tracking nearly 4000 years of north-east Gumbaynggirr history. The archaeological collections include:
The Canoe from Pipe Clay Lake
The Fig Tree Corindi Lakeside
Arrawarra Midden 1
Corindi Beach South Midden
Red Rock Reserve Midden
Kangaroo Trail and Corindi Park
Aboriginal Art of and from the North Coast & Mid North Coast Region
Paintings, ceramics, prints, photographs, sculptures, drawings and mixed media works that are by an Aboriginal artist of or from the regions.
Download PDF:

 Gumbaynggirr Language Introduction (85 KB)
Jalumbo has worked closely with other organisations in the creation of the Arrawarra Sharing Culture website. 
Jalumbo has also helped create fact sheets in regards to The Arrawarra Fish Traps. The fact sheets can be downloaded here.