GALA EXHIBITION OPENING
Friday 18th December from 6pm-9:30pm
69 Red Rock Road, Corindi Beach
Join us for an exclusive preview of Cleverman with a gourmet 3 course dinner whilst being serenaded by talented Gomeroi musician Kauri Munro-Greentree. Kauri is a passionate songwriter who conveys powerful messages through his lyrics. He uses his guitar for percussion sounds and captivates the listener with his atmospheric vocals. Our special speaker, Uncle Mark Flanders, will talk about Gumbaynggirr konwledge & oral history, followed by a special screening of Cleverman.
Exhibition & Dinner Event
Yarrawarra Aboriginal Cultural Centre presents an exhibition that celebrates the groundbreaking and critically acclaimed Indigenous superhero series, Cleverman.
Exploring First Nations storytelling, language and creativity, in production design, costumes and props, this free exhibition invites audiences to listen-first and immerse themselves in a powerful and contemporary expression of The Dreaming.
Tickets $110 each Booking essential. Please phone 02 6640 7104 Accommodation available, inquire when booking.
This exhibition is generously supported by Create NSW.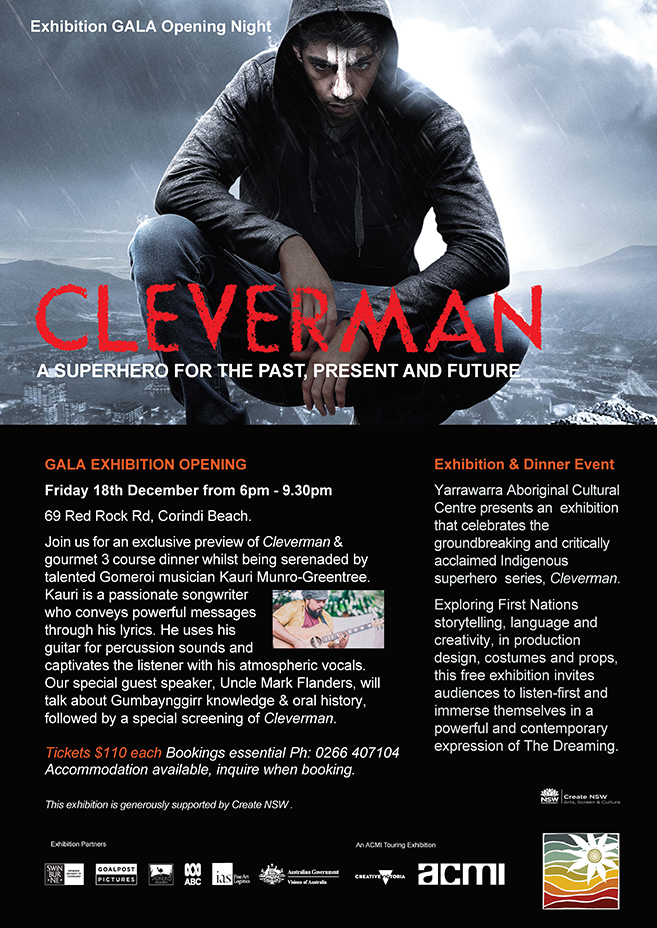 Please phone 02 6640 7104 to book attendance to the Gala Exhibition Opening. If you require accommodation let us know with your enquiry. Tickets are at $110 per person.