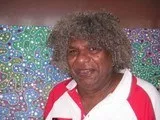 Digby Moran
Albert (Digby) Moran was born in Ballina and raised on Cabbage Tree Island. His father was Dunghutti and his mother Bundjalung. He is a highly respected member of the Lismore Ballina community.
Sixty year old Moran started painting late in his career. He worked in agriculture and even as a boxer before he turned his hand to painting. In 1991 he undertook an art course through TAFE which launched his career as an artist. Painting provided a vehicle to express his emotions and stories which he poured on to canvas telling the history of his aboriginal community, life on a mission as a child and stories told to him by his mother and elders.
As a story teller, Digby uses the methods of his ancestors passed on to him by his grandfather, his inspiration to paint, to express his Bundjalung heritage. He uses dot painting combined with other painting styles to depict recollections of his childhood on the island, folllowing the seasonal harvest trail and touring with travelling boxing troupes.
His work has always been closely connected to his people and their past. Moran's motives often refer to water, the most vital element in Bundjalung dreamings. Digby blends these 'ancient' aspects of his culture, the stories and the dot techniques with contemporary styles, stories and palettes. Although he doesnt consider himself an elder, Digby enjoys enormous respect throughout the Northern Rivers region, from artists as well as the wider community. His varied life has taken him from a mission on Cabbage Tree Island all the way to exhibiting his paintings internationally.